Since 1988 the Dublin Literary Pub Crawl has been rambling the streets of the capital and bringing the literary history of Dublin to life. Professional actors tell you the story of the gin palace, the long hall and the spirit grocer, while quoting live from the works of Joyce, Behan, Wilde and many more. The tour is a form of street theatre, allowing the audience to stand right up beside the actors and experience the language live on the streets of the city where it was born. No props, no make-up. Just the actor within prompting distance of the spectator
OUR HISTORY At one time Dublin had over 3000 pubs where locals could indulge in their favourite tipple. Pubs were places where ordinary 'Dubs' could gather, away from the tenements, the screaming children and dire poverty.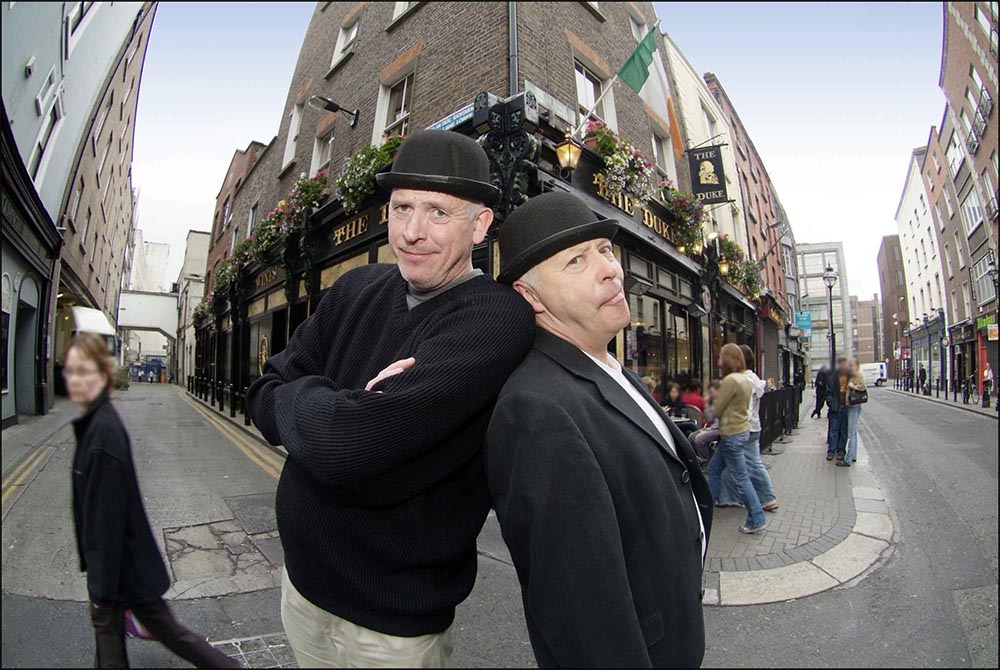 The pub provided warmth and atmosphere for men to drink cheaply and deaden the hunger in their bellies. As time passed laws were enacted to control the number of pubs in the city. Today, Dublin has about 850 licenced premises, each with its own style and particular clientele. Perhaps most famous is the 'literary pub'.
Because of the Censorship of Publications Act of 1929 many Irish writers could not get their work into print. In order to get published they had to leave this 'Island behind an island' or what James Joyce called: 'this afterthought of Europe'. Bending the knee to Mother Church and suckling state was not for them. Some escaped into the long grass of a foreign country; others 'fecked off' to England. Those who stayed, however, went to pubs like the Palace, McDaid's, Mulligan's and the Bailey to meet the journalists and literary editors of the Irish Times and the Irish Press.
The scene was small and gossipy, poisonous and paralyzed. Beckett referred to the 'indiscretion and broken glass' in Dublin's pubs. Writers fell out often and moved to other bars to lick their wounds and nurse a grievance. Pub crawling was a way of life for them. So the idea came about to follow in the footsteps of Joyce, Behan, Flann O'Brien and Patrick Kavanagh. A team of actors leads each group on a trail from bar to bar; no props, no lights, no make-up, just the voice and personality of the actor within prompting distance of the audience.